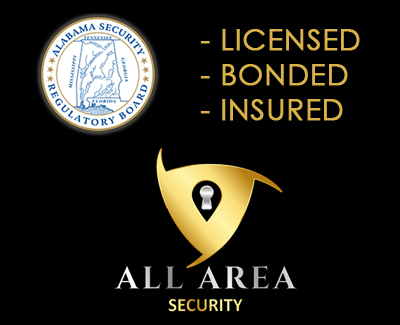 All Area Security, LLC is a Gadsden Alabama Security Guard service company. We provide licensed armed and unarmed security services throughout northcentral Alabama. Most importantly, we are licensed and certified by the Alabama Security Regulatory Board.
Since we are highly trained and experienced Certified Law Enforcement Officers, we are able to provide professional security services for a wide variety of needs.
This includes but is not limited to: funeral escorts, residential patrols, construction site security, public banking facilities protection, commercial security, higher education campus security, temperature checks, traffic control, as well as security for private events.
Who We Are
Our teams are comprised of licensed security guards, and actively employed, off duty certified law enforcement officers. All of which are bonded and insured through All Area Security.
Because of this, more business owners, educational institutions and private citizens are choosing All Area Security for the following reasons:
Focus. Our focus is to maintain security, safety and order in a positive and professional manner at all times.
Dependability. Before it's "Go Time", we are on scene, organized and prepared every minute, hour during the day of duty.
Communication. We keep you in the know and communicate with our clients before, during and after every security detail.
Imdemnification. In addition to the multi-million dollar liability coverage, our contract process indemnifies our clients Tort liability.
Reputation. We are known throughout northcentral Alabama as providing expert security services at some of the most affordable prices.
So to recap, we are a Minority-Owned, licensed, insured, and certified security service provider in the State of Alabama. The best part is that we offer all of this peace of mind at some of the most affordable prices in all of Alabama.
Thanks for visiting our site. We stand ready to serve your security needs.